Here's a sketch of a simple man's profile. Son of a small businessman in Kolkata. Brought up observing his father operating in the dusty, crowded wholesale market of Dawa bazar. His father ran a small, wholesale medicine shop, where our protagonist, as a child, would read the drug labels and wonder how they were made. What path would such a profile take in life? For any ordinary man, it would mean continuing to run the father's wholesale medicine shop, and living a contented, financially stable yet unremarkable life. But Dilip Shanghvi, 67, is no ordinary man. The child poring through medicine labels decided one fine day to make medicines himself, and became successful, way beyond probably what he himself would have imagined. Sometime in March 2015, Shanghvi, the Founder and Managing Director of India's biggest pharma company, Sun Pharmaceutical Industries Limited, became India's richest man for a brief period, besting Reliance Industries' promoter Mukesh Ambani. He stayed at No. 2 for fairly long, and even today is among the country's 10 richest men.
With a strong distribution network and local manufacturing, we have been growing in emerging markets on the back of new product launches

Aalok Shanghvi
EVP–Emerging Markets
Sun Pharma
It is not an appellation he likes to flaunt on his shirt. In fact, quite the opposite. He is distinctly uncomfortable with any reference to his riches, remains intensely work-focussed and introverted, shuns public appearances including press conferences and parties, has a hard time smiling for the cameras, and has a mundane office in a non-fancy location in Mumbai's Goregaon. If his stature has taken anything away, an anecdote from his biography, The Reluctant Billionaire, narrates how his fame ensures he's no longer able to visit a small south Indian restaurant to partake his favourite idli; his friends now deliver the dish to him at home.
And what does such a man do when faced with circumstances that threaten the growth of the business he so fastidiously built? He fights. In his own, low-profile, yet stubborn and determined fashion.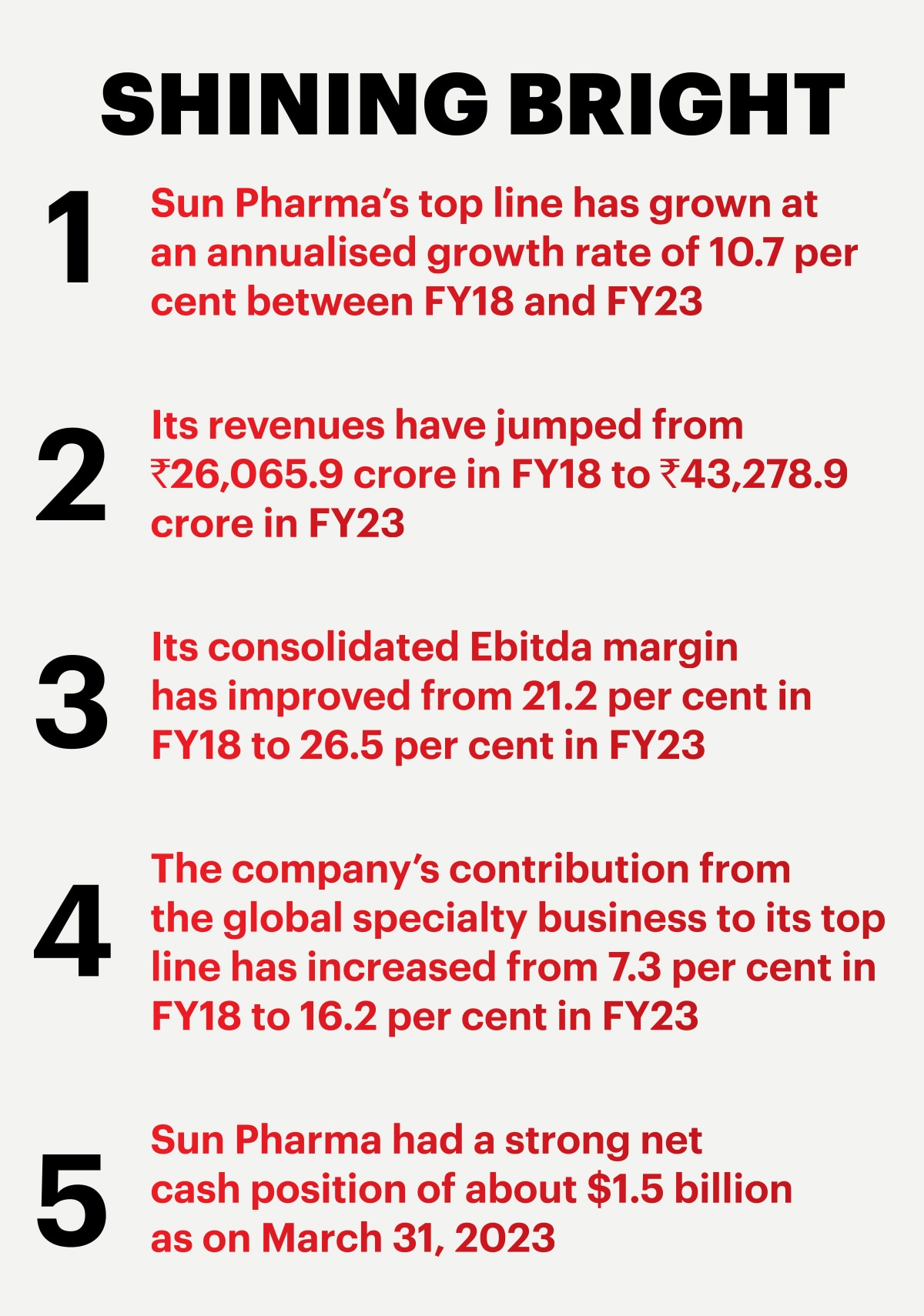 Founded in 1983, Sun Pharma saw some of its toughest times between 2014 and 2018. Intense pricing pressure in the US market, where it is one of the largest generics drug players, hit the company hard. Sun Pharma also encountered FDA-related issues such as warning letters, quality control and manufacturing deficiencies, and product recalls in the US. The challenges impacted its operations, market reputation, and its growth and expansion plans as well. And on the home front, its acquisition of Ranbaxy Laboratories in 2014, which made Sun Pharma India's biggest pharma company in 2015—as well as increased investments into a new business segment—hit the company's growth. In FY18, its profits plunged 70 per cent year-on-year to Rs 2,096 crore, largely due to regulatory issues, pricing pressure and increase in R&D spends.
Had Shanghvi bitten off more than he could chew? Well, if anything, the challenges seem to have brought out the best in him. In FY23, Sun Pharma recorded its highest-ever consolidated revenue of Rs 43,279 crore and net profit of Rs 8,474 crore. Leading the way was Shanghvi's renewed strategy of boosting the specialty drugs business (typically used to treat complex, chronic, or rare medical conditions), which grew 29 per cent in US dollar terms in FY23. In addition, he muscled up the company's business in the Indian market, made investments in R&D, and focussed on boosting competencies through M&As.
Sounds logical? Sounds like Shanghvi—simple, straightforward, yet impactful.
Going forward, our focus will be on enhancing our share of specialty business in dermatology, ophthalmology and onco-derm segments

Abhay Gandhi
Chief executive officer
North America Business, Sun Pharma
The game plan
Sun Pharma made upfront investments in the specialty segment, and focussed on targeting product segments with higher growth potential. "We initially identified dermatology, ophthalmology and onco-dermatology as areas where we wanted to focus, partly because we see a good future for them and at the same point of time, these are businesses in which really large companies are not very interested. So, there is an opportunity for us to do better," he says, looking calm in a spotless white shirt. To move on this strategy, apart from boosting in-house R&D capabilities, Sun Pharma jumped onto the M&A bandwagon.
In 2016, it acquired US-based Ocular Technologies, giving it access to Seciera, a potential drug for treatment of dry eye disease. Sun Pharma later renamed and launched it as Cequa in 2019. In 2021, it acquired the rights to sell Winlevi, a cream to treat acne from Italy-based Cassiopea SpA, in the US and Canada markets. Sun Pharma's most recent acquisition (completed in May 2023) was that of US-based Concert Pharmaceuticals for $576 million, which is aimed at accessing Concert's experimental drug deuruxolitinib, a potential treatment for alopecia areata, a dermatological disorder causing bald patches.
There were specialty M&As done before 2018, too, but the focus has sharpened in the past few years. Notable prior acquisitions included that of Israel-headquartered Taro Pharmaceutical Industries in 2010 for access to its dermatology generics portfolio and manufacturing facilities in Israel and Canada; of Massachusetts-headquartered DUSA Pharma in 2012 for its specialty drug-device dermatology combination; Ranbaxy for $4 billion; and US-based specialty ophthalmic company InSite Vision in 2015.
The hectic activity has enabled the global specialty business to clock revenues of $871 million (around Rs 7,147 crore) in FY23, a 29 per cent YoY growth over $674 million in FY22. Importantly, the global specialty business's share of Sun Pharma's consolidated top line has shot up from around 7 per cent in FY18 to more than 16 per cent in FY23. It has so far commercialised around 25 specialty products across the US, Canada, Europe, Japan, Australia, Israel and India, in the dermatology, ophthalmology and oncology segments. The bestseller among these has been Ilumya, global sales of which were up by about 51 per cent to $477 million in FY23. Ilumya is a specialty drug used to treat moderate to severe plaque psoriasis characterised by dry, itchy, raised skin patches covered with scales.
"We have a good basket of specialty products currently marketed in the US… Ilumya, Cequa, Winlevi and Levulan (to treat warty overgrowths of skin)," says Abhay Gandhi, CEO of Sun Pharma's North America business. "Going forward, our focus will be on enhancing our share of specialty business in dermatology, ophthalmology and onco-derm (cancer and skin-related) segments."
Over the past few years, we've expanded our field force... [to] Tier II and III towns... [This] is enabling us to expand our geographical footprint

Kirti Ganorkar
Chief Executive Officer,
India Business, Sun Pharma
Shanghvi's formula for success in the specialty business, where it looked to build presence in a market that was underpenetrated by bigger companies, is markedly different from his strategy for traditional, non-specialty businesses such as generics, where he has no qualms about squarely facing up to bigger rivals. "As a company, we always want to compete with players bigger than us. In each of the businesses we are present in, like generics, we have become a very big player because we continue to grow," he says. In contrast, he adds, even as the global specialty business nears a billion dollars in annual revenue, Sun Pharma would remain a small player in that business. "It gives us the ability to compete as a nimble small player with an ability to move faster," he says.
It is this clarity of thought, and flexibility of strategy, that has helped Sun Pharma deliver on its promoter's action plan in quick time. Shanghvi is clear on the company's future strategy: "We will continue to look at interesting opportunities in dermatology and ophthalmology; products in Phase III or products close to market is where we will invest so that we are able to bring them to market faster."
The sun rises high
Analysts are upbeat on the Sun Pharma stock, and it's not difficult to see why. With Rs 43,279 crore in consolidated revenues in FY23, the company is streets ahead of even second-placed Aurobindo Pharma at a distant Rs 24,617 crore. Plus, Sun Pharma's bottom line increased 159 per cent YoY to Rs 8,474 crore in FY23 against Rs 3,273 crore a year ago (part of the reason for the jump was a sharp fall in exceptional items or one-time expenditures to Rs 171 crore in FY23 against Rs 4,567 crore a year ago, when the pharma major spent Rs 3,723 crore on legal charges towards the settlement of an alleged violation of antitrust laws in the US). The exceptional items also caused several key ratios to plunge into the red in FY22, including return on equity, return on capital employed and net profit ratio. But its record high net profit in FY23 has corrected that anomaly, albeit its margins still trail competition.
Investment bankers see Sun Pharma as "differentiated" amongst Indian pharma firms, having built a meaningful and fast growing global specialty business over the past decade. "Sun Pharma has been efficient in terms of capital deployment to scale up its specialty business both organically through investments in R&D and commercial infrastructure, as well as through acquisitions or in-licensing of multiple specialty products over time," says Subhakanta Bal, MD of Rothschild & Co., a multinational investment bank and financial services company. "In doing so, Sun Pharma has evolved into a partner of choice in its core therapy areas such as dermatology and ophthalmology for global innovator companies."
Subhakanta Bal
MD
Rothschild & Co.
The company's share price, which trailed the benchmark S&P BSE Sensex from FY18 (see chart), has seen an approximately 26 per cent uptick over the past 12 months—despite a relatively moderate performance by the pharma sector overall—and has recently begun to outperform the benchmark index. "The optimism has been driven by a strong FY23 performance, which seems to be suggesting that the US business has started delivering results, especially its focus on its specialty portfolio," says Navroz Mahudawala, Managing Director of Candle Partners, an investment banking firm.
Sun Pharma faces intense competition in generics... However, in the specialty segment and other medicines, it should perform well

Param Desai
Senior Research Analyst
Prabhudas Lilladher
Its Ebitda margin of 26.5 per cent in FY23, feels Mahudawala, is impressive considering it has been spending a high 5.5-6 per cent of its sales on R&D historically, which could rise to 7-8 per cent to support the specialty portfolio efforts. (Sun Pharma also has four NCE—new chemical entity—molecules in its pipeline, which would continue to need support.) Mahudawala says the Ebitda margins are expected to sustain going forward. "The company is at a very high base level in Indian domestic formulations (around Rs 13,600 crore) and, hence, to sustain double-digit growth in India business would be challenging. But even a 7-9 per cent growth in India would aid double-digit growth at the overall level for the business," he says. "At this high base level, it is expected to generate over $1 billion of free cash flows every year, which would aid in taking more aggressive calls in M&A as well as spend more on R&D."
Sun Pharma CFO C.S. Muralidharan explains that the company's proactive strategy of investing in the specialty business—while continuing to focus on other growth drivers—has resulted in the improvement of its margin profile and return ratios. "Continuous efforts on cost optimisation, workforce productivity, better product mix and higher specialty sales have driven the expansion of operating Ebitda margins," he says.
In a recent report, brokerage firm Motilal Oswal Financial Services said that Sun Pharma is well-positioned for growth due to several factors. There is an increasing pace of prescription for drugs such as Ilumya and Winlevi; the company is making efforts to expand its specialty offerings; it has achieved stronger-than-average growth in the domestic formulation segment; and despite a challenging macroeconomic situation, Sun Pharma has been able to maintain its sales run-rate for US generics. "Sun Pharma has successfully transitioned from concentrating solely on domestic branded generics to incorporating US generics or exports to emerging markets/rest of the world (ROW) markets. These moves have served as key growth drivers for the company," says Tushar Manudhane, Research Analyst at Motilal Oswal.
Around the World
Apart from the focus on specialty drugs, Sun Pharma also has its moves mapped out in other areas such as generics, and in all its markets including the US, India, emerging markets and ROW. In FY23, India contributed the most (31.4 per cent) to its consolidated revenues, followed by the US (31.3 per cent), emerging markets (18.2 per cent) and ROW (14 per cent). "In addition to ramping up our specialty business, we are strengthening our generics business in the US," says Gandhi. "In spite of facing pricing erosion, increased competition and consolidation of buyers, we continue to grow our generics business through a combination of new launches and market share gains for existing products."
In the Indian pharma space, the company, which holds 8.33 per cent market share, has outperformed average industry growth in the past three years, driven by its presence in chronic segments and strong brand equity with doctors. "Over the past few years, we have expanded our field force focussing on Tier II and III towns. Our wider reach is enabling us to expand our geographical footprint, accelerating access to affordable and high-quality medicines to patients in India," says Kirti Ganorkar, CEO of India Business at Sun Pharma. "Recently we launched Cequa in India. Another novel product developed in-house by our scientists is Pexitaz, a chemotherapy product that comes in a premixed, ready-to-infuse formulation. It is our constant endeavour to introduce medicines that help address unmet patient needs."
Sun Pharma is also one of the largest Indian pharma companies operating in the emerging markets, with a presence in around 80 countries including Romania, South Africa and Brazil. "With a strong distribution network and local manufacturing, we have been growing consistently in these markets on the back of new product launches and efficient supply chain management," says Aalok Shanghvi, EVP–Emerging Markets. "Many of our brands are leaders in their respective categories in these markets. Last year, we commercialised our flagship specialty product Ilumetri (tildrakizumab) in Romania, and this year we have extended it to more markets in APAC. In line with our global strategy, we plan to introduce more specialty products in our key emerging markets in the coming years," says Aalok Shanghvi, who is Dilip Shanghvi's son.
Tushar Manudhane
Research Analyst
Motilal Oswal
Some analysts see Sun Pharma's growth to be driven by a mix of specialty, ROW and India markets. "We see the company delivering 8-10 per cent revenue growth on a sustainable basis. Along with India, Sun Pharma is also expanding its team of medical representatives and scaling up its franchise. It is increasing its physical penetration, and along with R&D, these three factors will drive the business," says Param Desai, Senior Research Analyst at Prabhudas Lilladher, adding that 60-70 per cent of the growth is expected to come from specialty products.
Despite some hiccups, the company has done well. Two big challenges have been the acquisitions of Ranbaxy and Israel's Taro. After acquiring Ranbaxy, Sun Pharma had to manage debt restructuring, cash flows and maximise its return on investment. Plus, Ranbaxy had regulatory compliance issues, requiring Sun Pharma to invest in improving quality control and manufacturing practices to regain compliance. Integrating operations, improving overall quality control, managing finances, and navigating a competitive market were also significant challenges.
On the other hand, Taro, which specialises in the development, manufacturing, and marketing of prescription and over-the-counter (OTC) pharma products, has seen unsteady growth over the years, courtesy regulatory issues, pricing pressures, and competition in the generics market. "Taro, however, was a successful deal, but in the past few years, growth has been flattish because of price erosion, rising competition and lack of meaningful launches," says Desai, adding that this contributed to lower earnings.
He has a point. Sun Pharma's revenue contribution from the US market fell from around 46 per cent in FY17 to 30.5 per cent in FY22. Almost half of that gap has been filled in by India, whose contribution to consolidated revenue has risen from about 27 per cent in FY17 to nearly 35 per cent in FY22, showcasing the rising importance of the domestic market to the company's fortunes. This trend is expected to continue. "Sun Pharma faces intense competition in the generics business, and it is expected to underperform in this segment. However, in the specialty segment and other medicines, it should perform well," says Desai. "In the specialty business, once a product is established, it experiences good growth despite pricing pressure. This segment has a more favourable and sticky business mix. The benefits of this transition have been visible in the last two years."
Clearly, the billionaire from Dawa Bazar has rediscovered his rhythm, and looks good for more. And that can only be good news for his company as it navigates the complex world of medicines in times to come.